Be All Ears: Podcasts To Inform And Entertain You Now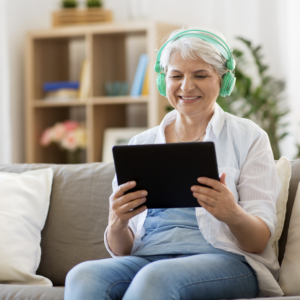 Be All Ears: Podcasts To Inform And Entertain You Now
January 5, 2022
So most of us are back inside, either due to winter weather or perhaps forgoing some of the social activities we previously thought were safe, as we wait out the Omicron variant and hope to return to better days soon. That means we may be in search of easily accessible distractions and entertainment, perhaps even opportunities that will allow us to multitask but stay engaged. So, next time you're getting ready to get on the treadmill or run the vacuum in the living room, you may want to first download one of the following podcasts to keep you informed and entertained as you hunker down once again.
First, an update. We previously highlighted for you the podcast "70 over 70," which features interviews of well-known "over 70s" along with revelations from other, lesser-known individuals over 70 who have found their way to reinvention later in life. Among the famous voices you'll now hear are interviews with Diana Nyad, Dan Rather, David Crosby, and Maira Kalman. A recent New Yorker article on the podcast underscores the wisdom and delight that result from these interviews. 
Next, for some "best of" lists specifically directed at older listeners, you may want to check out the recent Wall Street Journal article, 10 Podcasts for Older Adults That Promise to Entertain—and Enlighten. While also recommending "70 over 70," this list includes some familiar names (for example, Dr. Leslie Kernisan's Better Health While Aging Podcast) along with what may be new sources of entertainment (such as The Generation Splice, hosted by (mother) retired psychologist, Dr. Raquel Martinez & (son) Chicago film writer/programmer Raphael Jose Martinez, who attempt to bridge the generation gap by discussing a particular film each week). Feedspot also has a list of The Best 30 Aging Podcasts, covering a range of topics from health and psychology to longevity and reinvention to aging in place and financial and legal issues. The Atlantic also recently published a comprehensive list of the 50 best podcasts of 2021, featuring newly developed podcasts covering topics as far-ranging as Britney Spears to food delivery services, to true crime and comedy. To find out more, plug in your AirPods and click here.
Finally, there are also some new podcasts dedicated to the experience of being in your later years, that you may find of interest. For example, Dr. David Sinclair, the expert aging researcher from Harvard, has just begun a new podcast entitled Lifespan which will examine the science behind aging and explore practical options for improving your own aging journey. There's also a new podcast by family caregiving expert Sherri Snelling, called Caregiving Club on Air. Her goal is to provide expert guidance and practical solutions for the millions of us who are family caregivers. Among the topics addressed are juggling caregiving responsibilities, finding self-care as a caregiver, and home design suggestions to adapt to the needs of aging loved ones. And for those of you in search of guidance or info regarding the specific aging concerns of the LGBTQ community, the Public Radio show The Takeaway has a new podcast entitled Aging While Queer.
So whether you're new to podcasts or among the 80 million Americans who already tune in or download, happy listening and happy new year!