A Clean Slate: A Slew Of New Guidance On How To Declutter and Downsize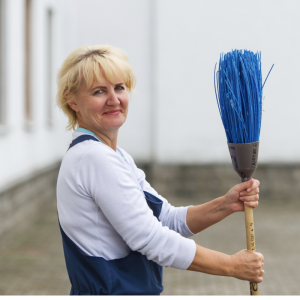 A Clean Slate: A Slew Of New Guidance On How To Declutter and Downsize
January 20, 2021
Many of us would like to grab a metaphorical broom and sweep away all of our 2020 memories. And some of us are more than ready to take a literal broom to our current lives, to rid ourselves of the clutter and chaos that have built up over these past many months of hunkering down during the pandemic. Fortunately, there has been a slew of new articles and experts streaming on your screens to give you advice about how to clean up and create an organized year in  2021.
In addition to the previous advice we've offered on agebuzz, organizing expert Peter Walsh was recently interviewed by Maria Shriver's Sunday Paper. The author of Let it Go: Downsizing Your Way To a Richer, Happier Life, Walsh looks beyond the physical burden of clutter to some of the more emotional and psychological aspects of what clutter means, and can do, to your emotional health. With the goal of making your home an oasis of calm and relaxation, Walsh suggests you recognize that most items fall into either "memory clutter" buckets or "I might need it one day" buckets," both of which trap you into keeping much more than you really need. Regarding memories, he recommends taking a photo then tossing the item. As for getting rid of excess, his advice is to start small- just a few minutes a day to give you a sense of accomplishment. Similarly, in a recent interview in The Wall Street Journal, clutter "coach" and expert Jes Marcy recommends you start anywhere you want and focus on things that are emotionally "easy" (ie. no strong attachments). She believes you need to build your "decluttering muscle" before you'll be ready to face the items that have a more emotional pull. And as one expert reminds us all, "The clutter didn't arrive in a day, so don't expect it to vacate in a day,"
If you'd prefer to get your decluttering recommendations while watching others fight the good fight, there are a range of programs now streaming that will fill you to the brim (metaphorically) with some good ideas. For example, consider the show "Home Again with the Fords," an HGTV program that features siblings Leanne and Steve Ford helping their Pittsburgh clients achieve their dream homes while eliminating unneeded items. Their motto? "Give yourself permission to get rid of things that are taking up space." Alternatively, hoarding expert Matt Paxton, whose show on PBS is Legacy List With Matt Paxton, understands that so many of us are dealing with sifting through stuff right now, either due to moving or loss, and he prefers to give you permission to go slow and be thoughtful when deciding whether to throw or give away an item.
Finally, there's a new documentary on Netflix that perhaps encapsulates today's thinking on clutter: "Less is Now." Featuring the folks behind the popular website, The Minimalists, this new film explores how purging yourself of unnecessary possessions can lead you to a better place and even maximize your happiness. Among their suggestions? Whenever you feel the urge to shop these days, wait before your click (as you're likely not going into stores). If it's a $30 item, then wait 30 hours to see if you really still want it. Their ultimate goal for you? Bring items into your life with intention rather than impulse. For more on their minimalist mantras, clear your clutter and click here.