"That's A Great Question!" – Get the Most Out of Your Doctor's Appointment by Julie Buyon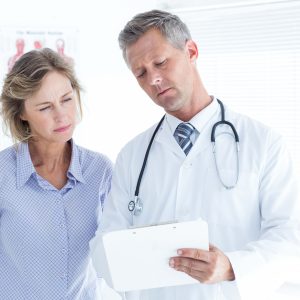 "That's A Great Question!" – Get the Most Out of Your Doctor's Appointment by Julie Buyon
January 7, 2020
by agebuzz Contributing Editor Julie Buyon
Like much of everything in life, a little preparation goes a long way when going to the doctor. You wouldn't go to a job interview, take a test, or host a party without preparation, and the same certainly holds true for getting the most out of the increasingly limited time available when at the doctor. Being prepared with questions is one of the best ways to be a Powerhouse Patient and make sure you and your doctor are on the same page.
Arrive with Questions, Leave with a Road Map
You will get more out of your appointment when you have done some thinking ahead of time about what's important to you and what kind of information you need to move forward. 
You have a right to ask questions and receive truthful answers, from anyone involved in your care. Formulate your questions within the framework of your personal goals:
-How will this health concern interfere with my goals (such as getting back on the tennis court, walking without pain or living independently)?
-How will the suggested treatment help me achieve my goals?
From there, get more specific about the health issue(s) and prioritize your concerns in a list of questions.
Some Resources and Lists Of Questions to Get You Thinking:
Many patients with whom I work don't know where to start, but there is no need to start from scratch. The Agency for Healthcare Quality and Research has a nifty question builder, and the Cleveland Clinic has an excellent list of questions that you can edit for your particular needs.
And, a Powerhouse Patient should always consider consulting Choosing Wisely, a website and resource devoted to helping patients and their providers talk together about tests, drugs, and treatments that are not truly necessary. All of the recommendations were developed with medical specialty societies. There is even a free app you can put on your smartphone so you have the information on hand to review with your doctor.
Not only are these great starting points, but they will get you thinking about what information is important to you so you can prioritize your questions.
Powerhouse Patient Questions About Medical Tests
Tests are often recommended to get a clearer picture of what's going on, but it's important to think about what you will do with the information the test may reveal. I have personally declined cholesterol screening for years because I refuse to take medication (statins) designed to lower cholesterol. I already know that increasing my activity and modifying my diet will likely be equally effective as medication, so my internist and I agree to skip this test. As a Powerhouse Patient you should always ask:
-Why is this test necessary?
-Is there a different way of obtaining the information (perhaps a pill camera instead of a colonoscopy)? If so, what are the risks and benefits of this alternative method?
-What will we learn from the test?
-What will we do with that information? (Really, think about what will you do with that information. Will it just cause you anxiety or are you prepared to consider treatments or interventions if your doctor recommends them?)
-How and when will I find out the results of the test? 
-Does my insurance cover the cost of this test? 
Powerhouse Patient Questions About Medications  
Statins aren't the only medications I won't take. I have declined another medication because after doing some research, I determined the medication was not in line with my personal health care goals. Here are some questions to ask your doctor about medications that are recommended for you:
-Why are you recommending this medication? 
-Is there a way to address this issue without medication?
-How will the medication help me and in what time frame? 
-Why are you prescribing this medication rather than another one?
-What are the potential side effects and where can I read up on them? 
-Will it interact with other medications/supplements/non-prescription drugs I am taking? (Always make sure your doctor is aware of all the medications you take before she starts you on a new one.)
-Is it available as a generic/covered by my insurance?
Powerhouse Patient Questions about a Specific Health Issue
If you know what the medical issue is, or are preparing for your appointment after learning of a diagnosis, a quick internet search of "Questions to ask the doctor about (health issue)" will bring up all sorts of lists. Be careful about how you use the internet though – there's a lot of wrong information out there. Although a future post will discuss trusted ways to research health information, check out the vetted resources on agebuzz and also those from national, well-known organizations and medical specialty societies first. For example, the American Cancer Society has questions tailored to specific types of cancer, such as breast cancer, including questions specific to diagnosis, treatment options, surgery, during treatment and after treatment.
Powerhouse Patient Questions about Expertise
Once you have a diagnosis, or if you need a procedure, learn about the doctor's depth of experience and expertise with the disease or procedure. Practice and repetition lead to increased expertise and better patient outcomes. You wouldn't hire a plumber who only installs sinks once or twice a year to do your bathroom renovation, so don't hesitate to ask:
-Should I see a specialist? Whom do you recommend?
-How many patients like me have you treated?  
-How many times a year do you usually perform this surgery/procedure?
-Are you board-certified in this medical specialty? (This is especially important in cancer treatment, as each particular cancer has unique characteristics. Wouldn't you have more confidence if your breast cancer treatment plan was created by an oncologist who treats breast cancer all day, every day, rather than an oncologist who treats all cancers?) 
Powerhouse Patient Questions about More Information
You may want more information about the health issue beyond what was discussed during the appointment. Include these questions on your list:
-Who else should I speak to about this?
-Where do you recommend I go for more information? 
-What internet sites do you suggest as most informative and trustworthy? 
-What can I do to prevent this from happening again/getting worse?
-What non-medical things can I do to address this? (Diet, exercise, lifestyle changes, et al)
What to Ask at the End of the Appointment
Recap for the doctor your understanding of what has been discussed during the appointment.  This will not only help you synthesize things but, just as importantly, provide your doctor the opportunity to correct and/or clarify any miscommunications. As I mentioned earlier, asking good questions helps ensure you and your doctor are on the same page.
And don't forget to summarize your understanding of your next steps, so you leave the appointment with a clear understanding of what your road map is.
Finally, include these questions at the end of your appointment:
-What am I forgetting to ask you about?
-I am going to have more questions. What is the quickest way to have them answered by this office? (By whom: doctor, nurse, other office staff and how: by email, text, office visit, or phone.) 
-What else can I do to stay healthy and prevent disease? Discuss how this specific health issue fits into the larger story of who you are and encourage a holistic approach to your care.  
Put your list of questions together on your computer for easy editing, and then print out the list leaving LOTS of space between questions for the answers. Staple or copy these questions into your marble composition notebook (see the Powerhouse Patient post on being organized) and, whenever possible, bring someone to the appointment with you to be another set of ears and to take notes on the answers.
This is your health and your life. No question is stupid. If your doctor won't partner with you by providing the answers you need, find a different doctor! Now go get your road map!