September 7th, 2017 Newsletter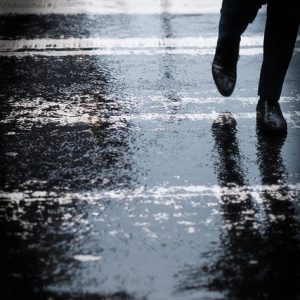 September 7th, 2017 Newsletter
September 7, 2017
Good morning and welcome to agebuzz… Headlining today's topics:
-Whether Digital Or Snail Mail: Protecting Yourself From Unwanted Intruders
-Age Explain: What Is Tinnitus, That Ringing In Your Ear?
-Walk This Way: What Does Your Walking Style Say About Your Health?
-Feet First: How Aging Can Affect Your Feet
-Eat It Up! A Website To Meet Your Pasta Grannies!
-The Last Word
Whether Digital Or Snail Mail: Protecting Yourself From Unwanted Intruders: Whether you're a computer whiz or you just try to stay on top of your US Postal Service mail delivery, you've probably encountered attempts to reach out to you from strangers or suspicious characters. You may think yourself savvy and able to ward off dangers, but in fact even the most sophisticated of us can become prey to computer viruses or mail fraud. Given the havoc that can be wreaked if your computer is infected or you fall for a scam by mail, take a look at the following: A recent AARP article provides useful reminders and resources to help you shield your computer from viruses. Check out their suggestions Here. And Savvy Senior's Jim Miller has a host of ideas to help you or your loved ones avoid the scams, phony sweepstakes and other dangers that can lurk in your mailbox. Take a look at his useful recommendations Here.
Age Explain: What Is Tinnitus, That Ringing In Your Ear?: It seems we're all bombarded these days with what amounts to noise pollution: whether excess noise on the street, screeching pop-ups on our computers or other unwanted sounds that constantly annoy us. But many of us suffer from something more specific: something called Tinnitus, which is a sound in our head that doesn't come from an external source. It can be a buzzing, ringing or whirling sound, either constant or intermittent, and nothing we seem to do can make it go away. In fact, once you seek out a doctor for this (and you should, as it's a condition strongly associated with hearing loss) you may find that what you have is common and potentially chronic, without easy remedies or solutions. Sometimes the only way to make the sound go away is with behavioral modifications. To better understand this condition, take a look Here. And sometimes, the best way to deal with it is to distract yourself with other external sounds. So, consider some headphones that may help with this strategy by checking out recommendations Here.
Walk This Way: What Does Your Walking Style Say About Your Health?: There's no doubt that as we age, walking is an essential way to keep us active and moving, which are important activities for healthy aging. But did you know that the way you walk could indicate some health concerns that may afflict you in the future? For example, a recentobservational study has found that the speed at which you walk may be a predictor of your risk of dying from heart disease. Read about this study's findings Here. And there's ongoing research that has found connections between a senior's gate, and how it changes, and early changes in the brain that can mean a dementia process is taking hold. More research needs to be conducted, but it appears as though attention to whether your walking style has slowed down or become more erratic could lead to pro-active measures against cognitive decline. So before you go out and take a brisk walk, take a look at thisWall Street Journal article Here (paywall).
Feet First: How Aging Can Affect Your Feet: Speaking of walking, before many of us can contemplate a brisk walk, we need to first address the various problems we have with our feet. Whether it's dry skin, painful toes or weak ankles, getting older almost inevitably means dealing with foot discomfort. And it's not your imagination-it's the thousands of miles of walking, weight bearing and foot crunching in improper shoes that's likely led to your problems. Over at Healthinaging.org, take a peak at their general overview of foot anatomy and the typical foot problems we develop as we age. For more specific info about the various feet ailments that may afflict you, and what you can do in response, Read Here. Finally, some of us have been driven to seeking out orthopedic shoes, and even custom orthopedic shoes, as a way to try to walk comfortably. For a humorous take on this search, read about the experience of writer Joyce Wadler Here.
Back To School- At Age 63: September is the month when we think of school- perhaps our kids or grandkids are returning to the classroom or we think about our own experiences, especially what it was like to go away to college. For Melisande Short-Colomb, who at age 63 finds herself as a college freshman on the campus of Georgetown, going off to college has a whole other level of meaning. You may remember that Georgetown, like many other colleges, recently came to terms with its historical past, which included the owning of slaves. To atone for this, the school offered legacy status to descendants of the slaves it owned and sold. Ms. Short-Colomb came to discover in her family history that she was, in fact, one of those descendants. It's a fascinating story, made all the more compelling as this mother, grandmother and professional chef has decided to take her place among the students in this year's freshmen class at Georgetown. Read about her journey from New Orleans to Washington DC by clicking Here. And listen to an interview with Ms.Short-Colomb Here.
Eat It Up! A Website to Meet Your Pasta Grannies!: For anyone who's visited Italy, the experience of tasting authentic Italian cuisine is hard to forget. And it's often the small, family-run trattorias that serve the best meals. Well, lucky for you, writer Vicky Bennison has your back. Because she's started a website and YouTube channel that introduce you to real grannies of Italy, whose skills in the kitchen and recipes are guaranteed to make you swoon. So take out your saucepan and take a look at the website Pasta Grannies Here. And, if you want some visual instruction for how to make a memorable red sauce, homemade pasta or other Italian specialty, watch the YouTube channel Here.
THE LAST WORD: "All truly great thoughts are conceived while walking." Friedrich Nietzsche