November 30th, 2017 Newsletter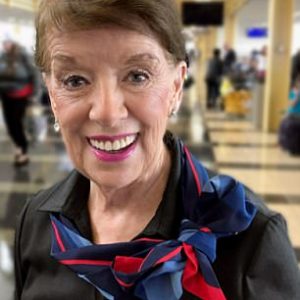 November 30th, 2017 Newsletter
November 30, 2017
Good morning and welcome to agebuzz… Headlining today's topics:
-Game Changer: Finally a Brain Training Game That Makes A Difference
-Rounding Out That Gift List: Cutting Edge Ideas For The Seniors On Your List
-To Pee Or Not To Pee- Tips For Men And Women
-Home Alone: The Physical And Financial Toll Of The Socially Isolated Senior
-Around The World: The Challenges Of Aging Across The Globe
-Flying High: Still Serving The Friendly Skies At Age 81
-The Last Word
Game Changer: Finally a Brain Training Game That Makes A Difference: While there's no doubt that mental stimulation is important for keeping your mind sharp as you grow older, to date there have been few scientifically-valid research studies supporting specific games or computer programs that can protect and maintain your brain capacity as you age- that is, until now. A new National Institutes of Health funded study, published inAlzheimer's & Dementia- Translational Research and Clinical Interventions, has documented a 29% reduction in the risk of dementia for those who undergo a computerized "speed of processing" training program. Over 2000 healthy older adults were followed for 10 years in this randomized clinical trial and the results demonstrated a protective benefit from engaging in this specialized computer training. While more research needs to be done, the study results are very encouraging. And who knows- maybe a computer game resulting from this research will be available for next year's holiday gift list. To read more about the research, and its implications, Click Here.
Rounding Out That Gift List: Cutting Edge Ideas For The Seniors On Your List: It's that time of year when we begin to think about holiday gifts. For younger friends and family members, technology gifts and gadgets often come to mind- but what about for older loved ones? Well, there are products now on the market that employ cutting edge technology while providing practical help for activities of daily living. For example, consider the following: The Smartcane, a high quality cane using the work of the century-old French cane maker Maison Fayet, that has sophisticated technology and sensors hidden in its handle. In fact, this cane can send out alerts if something is amiss. You can read more about this walking aide Here. Or, for those with low vision or who are legally blind, consider eSight glasses– these very high tech- and very expensive- glasses allow people with limited vision, including those who suffer from macular degeneration or diabetic retinopathy, to gain enhanced hands-free sight and mobility- so that users can walk in new places, travel or just do household chores or hobbies. With a more medical focus in mind, consider the Kardia Mobile from AliveCor, a smartphone device that allows anyone to take an accurate EKG, and detect potentially dangerous atrial fibrillation, from the privacy of your own home- and phone. While this requires a modest monthly charge, and coordination with your cardiologist, it may save you unnecessary travel to the doctor and unnecessary worry about your health. Finally, if high-tech presents are not your thing, how about a pair of furry slippers with wine goblets on them? Find these, and a host of other inexpensive suggestions, in a recent post from My Itchy Travel Feet.
To Pee Or Not To Pee- Tips For Men And Women: Maybe this has happened to you: you're enjoying yourself at a gathering, but suddenly have an urgent need for the bathroom. Or, you're enjoying a lovely evening out but know that the extra glass of wine will have you scurrying to the toilet during the night. Ah, it's not fun getting older- but bladder problems are not an inevitable part of aging, especially if you know what to look out for. Since November has been designated Bladder Health Month (who comes up with these designations?), let us provide you all, both men and women, with some useful information. For men, The Harvard Health Blog provides an overview, and some helpful strategies, for dealing with urinary incontinence. And for women, take a look at a recent posting about bladder health from the HHS Office of Women's Health, which offers info and additional links on such issues as incontinence and urgency. And armed with these useful tips, drink up to good health!
Home Alone: The Physical And Financial Toll Of The Socially Isolated Senior: For people without friends or family, the holiday season can be especially lonely. And for seniors, the toll that loneliness takes can be catastrophic. As our older population continues to expand, including the growing group of "elder orphans," we"ll have to come to grips with, and devise solutions for, lonely seniors. A new study published by AARPshines a light on the financial burden of this public health epidemic. Seniors who live in social isolation are sicker than those who have relationships, and the estimates are that this loneliness adds an additional $7 billion to annual Medicare spending as a result. And beyond the financial toll, there's real physical and mental health suffering that comes from being lonely, including cognitive decline and early death. For deeper insights into this phenomenon, take a listen to the newly published panel discussion from the Aspen Ideas Festival Here. One easy suggestion for combatting loneliness? Get outside. We already know that getting outdoors enhances the likelihood of social interaction and new research demonstrates that seniors who leave their home on a daily basis have a lower risk of death than those who rarely leave their homes. So button up your coat, tie on your scarf, and Read Here.
Around The World: The Challenges Of Aging Across The Globe: The United States is not the only country dealing with a burgeoning senior population. In fact, the world as a whole is aging, with different continents facing the same phenomena- take a look at the demographic juggernaut the global community faces Here. And in the US, we can't be too smug about how we are dealing with this development. In fact, according to a new survey by the Commonwealth Fund, older Americans fare poorly in comparison to seniors elsewhere in the world. It turns out US seniors are more sick and face more financial barriers to health care than seniors in other countries. See the statistics Here. Some countries, especially those in the developing world, have no choice but to be innovative and efficient in addressing the needs of their aging populations. In Chile, for example, which has the fastest aging population in South America, one southern city, Valdivia, is vying to be the best place to grow old with their "gerontological hub" project. Read about their efforts Here. Finally, if these international developments pique your interest in spending your senior years in a different place, check out thisnew list of the best destinations in Europe for your golden years.
Flying High: Still Serving The Friendly Skies At Age 81: For some of us, the thought of airplane travel in this day and age brings intense anxiety. For 81-year-old Bette Nash, it's just another day's work. Literally. For the past 60 years, Bette Nash has been a stewardess on some of the most noteworthy airlines and routes. And now, in an age when traveling by plane poses new challenges, she hustles to work every day to greet passengers and serve drinks so that harried travelers can see a friendly face amidst the chaos that often accompanies flying. Beginning in 1957, on the now defunct Eastern Airlines, Nash has seen it all- from the days of glamour to the current grunge. Since there's no mandatory retirement age for stewardesses, her face may continue to grace the friendly skies for years to come. Read more about Bette Nash Here and watch a video interview with her from last year Here.
THE LAST WORD: "Getting old is like climbing a mountain; you get a little out of breath, but the view is much better!" Ingrid Bergman