May 17th, 2018 Newsletter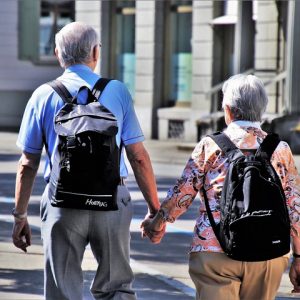 May 17th, 2018 Newsletter
May 17, 2018
May 17th, 2018
Good morning and welcome to agebuzz… Headlining today's topics:
On The Go: Travel Plans For You And Your Family: Here's a pretty startling statistic: By 2020, one in every 3 adults will be a grandparent. And those of us with grandchildren know that equates to a lot of travel- either to visit distant grandchildren or to find ways that multiple generations can spend time together. Grandparents today tend to have more physical and financial ability to engage in travel- but planning these family extravaganzas requires patience and planning. For some tips on how to strategize for multi-generational journeys, Read Here. One suggestion that's likely to appeal to multiple ages?  Our National Parks. And even though the price has been raised, there's still a tremendous bargain to be had for those over 62 with the $80 Lifetime Senior Pass to the National Parks. For those with a more luxurious budget, you may be intrigued to learn about a personal luxury tour of 7 national parks in 7 days. Finally, does all this talk of travel spark an idea about a business opportunity for you?  Maybe to indulge in travel fantasies and get someone else to pay for it? It's not uncommon for retirees to look to travel as a way to earn extra money. But it's a complex industry with lots of competition and challenges. Interested in seeing if this might work for you? Pull out your map and read this recent Wall Street Journal article Here (paywall).
On A Scale of 1-5: Professional and Consumer Ratings For Nursing Homes: Many of us look for ratings when making choices, and in the nursing home arena, there are rating systems as well. The federal government has a website, Nursing Home Compare, which is a combination of independent analysis and facility-provided info about every Medicare or Medicaid certified nursing home in the US. There have been criticisms of this site, and while it's been improved, it may still be challenging for the average consumer to gauge the value of the info. But did you know that Yelp also allows for ratings of hospitals, nursing homes, and other healthcare settings? Admittedly, the reviews on Yelp are anecdotes and only one person's experience, yet they're likely to address the questions and concerns that real people have with their relatives in nursing homes. And a recent study published in the BMJ Journal of Quality and Safety confirms that Yelp reviews tend to be lower than ratings of the same facilities on the federal website. Researchers at the USC Leonard Davis School of Gerontology found that on average, Yelp reviews were considerably lower, and provided input on such non-clinical issues as the friendliness of the staff or whether a loved one improved or deteriorated. For more about this study, and it's implications for nursing home selection, read Paula Span's New York Times piece Here.
It's never easy to consider nursing home placement for a loved one, so it's critical to ask the right questions. For a good basic look at the challenge of nursing home selection, Read Here. And for a list of some "must-ask" questions when you're considering nursing homes for someone, Click Here.
Fall Off: Deadly Falls And How To Lessen The Risk: It's perhaps your biggest nightmare: you or an aging loved one falls, no one is around to notice, and dire consequences then follow. If this is a scenario you dread, you're not alone. A new report out from the Centers For Disease Control and Prevention (CDC) has documented that fatal falls among seniors have risen 31% since 2007. In 2016 alone, nearly 30,000 people over age 65 died as a result of a fall. So this is a serious public health hazard and a serious concern for families whose loved ones are unsteady or prone to falling. Further, given the multiple medications that seniors often take, the risk of falling is elevated depending on the kind and mix of medications taken.
How can catastrophic falls be proactively prevented? The CDC has a comprehensive website called STEADI that provides info on such topics as safety precautions and exercise for building strength. There have also been technology-driven approaches to decipher the risk and reality of falls. One new product on the market is called MyNotifi. While consumer and professional reviews are not available, the product does seem to do away with the need for the person to push a help button and Bluetooth technology allows for multiple people to be alerted when there is a fall. Whether proactive or reactive, it's critical that you have in place safety measures and detection systems to lessen the likelihood of a fatal fall.
Success Or Failure: How Do You Know If You're Aging Successfully?: Those of us with a Type A personality are usually driven to pursue success, even at great cost. So, as we grow older, the question becomes: How do we age "successfully"? What's the measure of success- or failure? Well, according to geriatrician Leslie Kernisan, of Better Health While Aging, knowing whether you're "successfully aging" is difficult to discern, as it's often as much a matter of luck as with any steps you take to stay healthy and active. In her new blog post, What is "Successful Aging"?, Dr. Kernisan suggests that success may be a matter of coping with, and adapting to, whatever life puts in front of you- be it illness or loss- and putting together help and resources to deal with whatever comes your way. This is not to suggest, however, that you shouldn't take proactive steps to sustain or improve your health and well-being. Somewhat in contrast, however, is writer Barbara Ehrenreich, author of Natural Causes: An Epidemic of Wellness, the Certainty of Dying and Killing Ourselves to Live Longer, who believes that too many of us are trying too hard, without the data to back up our efforts, to try to stave off the inevitable. Ehrenreich has determined that she's no longer interested in predictive diagnostic tests, and she's going to eat whatever she pleases, as she'd rather focus on her current life than expend effort on extending her lifespan. She's not against healthy living, if that's what you enjoy, but she's certain we have less control over our bodies and lives than we think. You can read more about her aging philosophy Here and watch a PBS interview with her Here.
Dollars and Sense: Making The Most Of Your Money During Retirement: In a recent Gallup survey of Americans about retirement concerns, one thing stands out pretty clearly: for those who have yet to retire, concern about outliving your money looms large. Those already retired are more optimistic about having sufficient funds to keep them going but for those thinking about retiring, there is palpable fear about running out of money. So, how do you plan to stretch your dollars as far as you can during retirement? For many people, it's finding a less expensive place to call home. Some recent data analysis should help. First, Kiplinger's has just come out with its 2018 tabulation of how expensive it is to live in every state during retirement. You can find the results Here. For those of you who have a pretty sizable amount stashed away, there's also a new tabulation of how far $1 million dollars would last in each state- so pull out your bank statements and Click Here. And for those of you who are not sure how to retire, due to money concerns or professional interests, you may find this story from writer Ann Brenoff, still working full time at age 68, to be of interest.
The Time Of Bill- Photographer Bill Cunningham Is Having His Moment: If you're a reader of The New York Times, you no doubt remember photographer Bill Cunningham. Chronicler of all things fashion and style for the paper, Cunningham was a ubiquitous man around town with his blue coat and bicycle, captured so wonderfully in the 2010 documentary Bill Cunningham: New York. Having passed away in 2016 at the age of 87, he was a beloved figure working the streets of New York until close to his death. And now, he seems to be having his moment, with an upcoming museum exhibition, second documentary and even his "secret" memoir due out this fall. First, The New York Historical Society will premier its exhibit, Celebrating Bill Cunningham, from June 8th – September 8th. Along with some never before seen photos of his, you'll be able to see his bike, beloved blue jacket, personal memorabilia and even hats of his own design. You can read more about this upcoming exhibit Here. Next, be on the lookout later this year for another documentary about Bill, entitled The Times of Bill. Finally, you'll be able to read in depth about his life in and out of fashion in his memoir (discovered after his death), Fashion Climbing: A Memoir with Photographs, due out in September. If you're a lover of all things Bill Cunningham, the upcoming months will truly be a treasure trove.
THE LAST WORD: "Don't ask what the world needs. Ask what makes you come alive and go do it." Bill Cunningham