Keeping Guard: Protecting Seniors From Abuse, Fraud, and Scams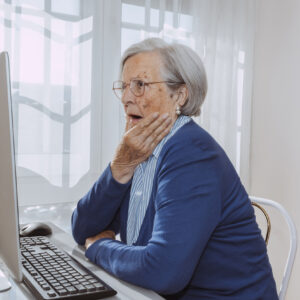 Keeping Guard: Protecting Seniors From Abuse, Fraud, and Scams
June 14, 2023
Today, June 15th, marks the recognition of something that happens all too frequently: It's the day designated as World Elder Abuse Awareness Day. Elder abuse, whether in the form of physical, emotional, or sexual abuse or in the form of neglect or financial exploitation, is an all too common occurrence, affecting one in every 6 older adults living in the community, with rates higher among those who live in institutional settings. It is believed that the pandemic exacerbated levels of elder abuse, and with the growth of older populations worldwide, concerns about rising levels of elder abuse are well-founded. We've not shied away from addressing this topic in the past: for a look at some of our previous posts concerning elder abuse, click here. And for some telltale signs of when a loved one may be the victim of abuse (which is often perpetrated by a family member), read here.
In the United States, financial exploitation of older adults appears to be the most common form of abuse, with estimates that the average victim loses $120,000 as a result of scams or fraud. And in this day and age, some of this financial exploitation is being accelerated and exacerbated by new technologies that allow fraudsters to disguise where they're calling from or to simulate familiar voices using deep-fake technologies. Many of the scams have been around for a while but new tactics may further take advantage of unsuspecting older adults. There have also been situations where technology itself becomes an abusive perpetrator: For example, there are reports that older adults using the app Papa, which provides "pals" to help older adults who live in the community with chores or even companionship, have experienced harassment or abuse at the hands of these app-facilitated helpers. If nothing more, it's a good reminder to always do your homework before letting a stranger into your home. There are also reports that "free" cell phone or laptop chargers in public places are often a lure to infect your device with malware so that criminals can get to your private information. Another word to the wise: always bring your own chargers and cords with you.
Many of the attempts at financial exploitation involve phone calls that either scare the intended recipient or try to impersonate someone the recipient is likely to respond to. First, in case you are unaware, older adults who still rely on landline phones are often targeted excessively with these fraudulent phone calls. A recent survey found that older adults receive 4 times as many unwanted phone calls as the average landline user. The survey found that seniors receive as many as 200 unwanted landline calls every week, frequently from fraudsters hoping to exploit them financially. In fact, it's estimated that $5 billion was stolen from older adults last year through landline frauds. That just underscores the magnitude of this problem.
If you pride yourself on being able to detect when someone is trying to scam you, and you'll never fall for that "Grandparent scam" or a fake IRS call, you may want to think again. While it's true that the IRS will never call you to ask for money via a credit card or gift card, fraudsters can often access your private information. Using these details about you when they call may make it harder to just hang up (which is what you should do whenever a scammer rings you up). In fact, experts advise you to never use your voice and answer a scam call, as even just a few seconds of your voice may allow fraudsters with sophisticated technology to copy your voice and use it for criminal purposes. For example, the CBS show 60 Minutes recently ran a profile on how scammers can now use technology, including artificial intelligence, to create very realistic sounding familiar voices so that an unsuspecting senior (or anyone) would have a difficult time detecting a fraud. For more on these "deep fake" voices (and don't forget Caller ID can also be faked at this point) and how to protect yourself, be on the alert and click here. And if you do ever become the victim of one of these phone frauds, you'd be best served by reporting the fraud here.
Finally, you need to be aware that along with the pandemic, cases of medical identity theft rose significantly, so these days your Medicare information may very well be used without your knowledge in the perpetration of fraud. Kaiser Health News recently ran a story of a significant increase in the number of older adults receiving unwanted covid home tests among other medical items without ever asking for them. It appears that scammers have used stolen Medicare numbers (which are now described as more valuable than credit card numbers or social security numbers on the dark web) to ask for all sorts of fraudulent payments from the Medicare system. Not only does the system suffer financial losses from these scams (losses estimated at up to $90 billion each year) but if you do eventually need an item that was previously fraudulently ordered, you may be out of luck when you actually need Medicare to pay for that item. It's suggested that you review all Medicare claims you are sent to keep track of potential frauds. Like all scams these days, your best defense is to be vigilant and aware.