A Numbers Racket: Older Adults Continue To Be Vulnerable To Scams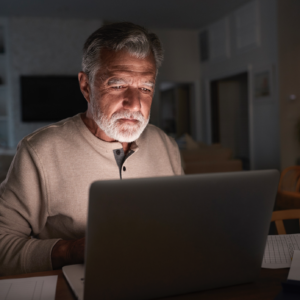 A Numbers Racket: Older Adults Continue To Be Vulnerable To Scams
August 9, 2023
Unfortunately, there's no good news to report when it comes to fraud and financial exploitation of older adults. The stunts and scams continue on and evolve to stay one step ahead of savvy detectives and wisened older adults. And the number of people swindled and scammed continues to rise. According to FBI statistics, there were over 88,000 victims over age 60 who were scammed last year, leading to over $3 billion in losses, an 84% increase over the prior year. Even these figures are probably an undercount, as so many do not report their victimhood due to fear or embarrassment. 
What is new in this realm is a book by veteran Dept. of Justice Elder Justice prosecutor M.T. Connolly, a MacArthur Genius award winner who probably knows more about the financial exploitation of older adults than anyone else on the planet. In her new book, The Measure of Our Age: Navigating Care, Safety, Money, and Meaning Later in Life, Connolly lays out in black and white the stark reality of the problem and how unprepared we are to address it as our population ages. In a recent article in The Atlantic, Connolly summarizes her data and her insights into the problem. She defines the problem as everything from excessive fundraising pressure to existing relationships that turn predatory, and all sorts of scams in between, including the proverbial "romance scam," fake charities, and fraud committed by family members. As she makes clear, "Our society is not remotely prepared to protect this growing demographic from financial exploitation." And the losses are not just in terms of money. As she reveals, victims may lose their housing or their cherished possessions as a result of fraud, or they may be reluctant to ever again trust anyone and become reclusive in their homes. She even cites data that these scams triple the rate of premature mortality in victims and quadruple the risk of nursing home admissions for victims. What's more, it's not always strangers perpetrating these crimes. She writes, "People who exploit their older relatives are estimated to steal an average two and a half times as much as strangers in each instance."
What's also striking, according to Ms. Connolly, is that we don't have sufficient systems in place to pro-actively ward against this. Rather, we disproportionately focus on the crimes after they've been perpetrated, which places the onus for reporting and solving the crimes on the victims. She blames banks for not putting in place easy-to-enroll protections and suggests that consumer education efforts don't seem to really help. There are legislative efforts underway to try to address this problem- the National Senior Investor Act of 2023 has passed the US House of Representatives– but best not to hold your breath about positive results for older adults anytime soon. Even if you are aware of the problem, you may still fall for the scam. As one example, see this heartbreaking personal story of a romance scam perpetrated against a sophisticated woman living in Spain.
And speaking of "romance scams," you may want to read this recent post in The Conversation, which details the extent of the problem and efforts you can take to protect yourself from falling victim. According to this post, in 2022 alone, nearly 70,000 of us became victims of online romantic schemes, with losses as a result adding up to over $1 billion. In addition to not falling for too-good-to-be-true online profiles and flirtatious outreach, the authors suggest you do things such as refrain from providing personal info or photos, look for spelling or grammatical mistakes that suggest the outreach is not from a native English speaker (many of these scams originate from foreign countries looking for vulnerable, lonely Americans) and make sure family and friends know what you're involved with to provide counsel before you are lured into some sort of fraud.
Another type of scam that's apparently on the rise is identity theft, especially using your social security number. If you're tricked into revealing your social security number or a criminal somehow gets hold of it from theft or purchase on the dark web, any number of terrible acts can result, including bank accounts opened using your number, tax refunds, government benefits or medical benefits stolen, or other crimes committed that are connected to your identity. Not only may fraudsters impersonate Social Security employees by phone, email, or text (scams involving texting are definitely on the rise), but they've now taken to sending official-looking mail with letterhead and jargon that's awfully hard to distinguish from the real thing (again, look for misspellings or typos as an indication this is not legitimate).
While there are ways to report these scams, recovery of stolen funds is rare. Best to be proactive rather than reactive, if at all possible. One resource that may be of help? There's a new book available on Amazon called Senior Savvy: A Comprehensive Guide to Avoiding Scams: Winning the Fight Against Fraud and Deception, written by financial expert Andy LaPointe. While it may not address all your exploitation problems and pitfalls, it is a comprehensive look at everything going on right now and how you can better protect yourself. And the good news? It's free on Kindle, so at least with this purchase, there's no potential for losing your money!